A Mage's Apprentice Series
If you enjoy strong heroines, fantasy worlds, adventure, and clean romance, then try
A Mage's Apprentice
, set in the same world as the completed Mage's Influence series.
Reading Order
Winds of Courage

(Book 1)

Storms of Allegiance

(Book 2)

Tempests of Truth

(Book 3)
---
Winds of Courage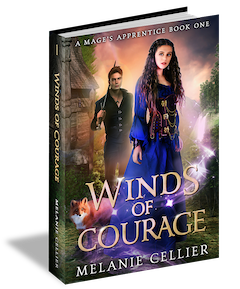 Delphine possesses great power—too much power for the daughter of farmers. The Mage's Guild would eagerly take her, but she wants nothing to do with its arrogant and self-centered members. That is, until her friend is abducted in front of her.
Now Delphine needs her power, but to access it, she'll have to apprentice herself to a traveling master. Amara is willing to take Delphine, but Delphine has a secret—one that will cripple her apprenticeship before it even begins. And once she leaves home, the secrets keep mounting.
On the road, Delphine's healing power wins her a new friend—a wild fox she names Ember—but it also catches the attention of the dangerous man who abducted her friend, and of Nik, the mysterious mage hunting him. Now Delphine herself is in danger, and Nik might be her only way out. But first she has to overcome her crippling secrets and convince Nik that together they can be stronger than apart.
---
Storms of Allegiance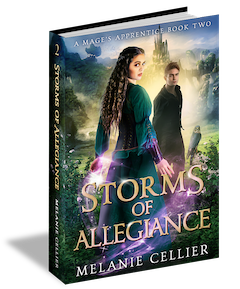 Even absorbed in her studies, Delphine can't forget Nik or his mission to find Grey. When he reappears with a plan to defeat Grey, she's desperate to convince Amara and Hayes to agree—even if it means putting herself in danger.
But there are things Delphine doesn't know about her own ability, and once in Grey's orbit, it might not be as easy to extricate herself as she expects. Confused, and with her allegiance wavering, Delphine clings to the one certainty in the fog surrounding her—Nik.
But when the two of them end up stranded and facing a threat that could upend the entire kingdom, Delphine isn't sure if she can rely on the man who's stolen her heart. If she wants them both to survive, she'll have to discover the limits of both her power and her will.
---
Tempests of Truth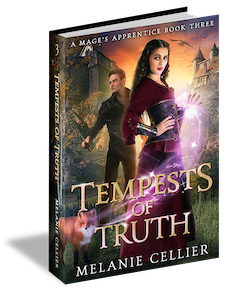 Having finally rescued her friend, Delphine is left with a secret that could put all of Tartora at risk. Stranded on an island and with their relationship in tatters, Delphine and Nik are further than ever from finding and defeating Grey. But now they know the truth of his ability, they can't let anything stand in the way of stopping him.
Delphine's unique skills are their best tool for facing Grey, but they also make her a target. Nik wants to protect her, and Delphine's heart wants to let him, but his status still stands between them. With fear and danger on every side, Delphine will need new levels of determination and courage to save both Tartora's future and her own.
---
Audiobook Versions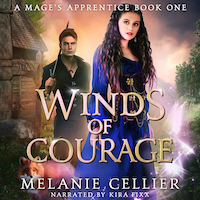 Release date TBD

The amazing Kira Fixx will be returning to narrate the audiobooks for
A Mage's Apprentice
.

---
Subscribe to my mailing list
to be kept updated—on new releases, sales, and giveaways.